"I'm new in Toronto and very introverted. How can I meet women?"
We get it:
Meeting women as an introvert can be challenging. And as an introvert wanting to meet women in Toronto, you're facing that challenge in one of the biggest cities in North America.
If you feel like you're alone in a sea of hustling, bustling extroverts, take heart:
That's what we'll be working on today.
We'll help you with…
figuring out the best social hangout spots where you're likely to meet single women interested in dating,
planning fun days out on your own to enjoy yourself and practice your social skills, and
maximizing your chances of success with online dating.
Before we get to all of that, though, let's take a step back.
How is it different to meet women in Toronto as an introvert rather than as an extrovert?
As of 2020, Toronto has a population of almost 3 million people.
To a super introverted person, a group of more than three or four people can be just… too much.
So when your extroverted friend tells you to "just go to a club and start chatting with women; it's easy!" and you feel like that advice is as alien and unhelpful as it could possibly be, that's okay.
Step 1 of this post does recommend going out to social spots and starting conversations.
That's because being where people are and engaging with them works.
However, we also understand that many introverted guys don't feel ready to take that leap. That's why we've also included Step 2 as a way to work up to Step 1, and Step 3 as the simplest way to break in your dating skills so you can meet women in Toronto.
It's all a learning process; just hop in where you feel most comfortable and work your way up from there!
To a certain extent, meeting women is an exercise in developing self-confidence. Some interactions will go well, and some won't! The key is to persevere with a curious mind and courageous spirit!
Download this free ebook to build more confidence as an introvert. >> Get it here! <<
Now, let's jump in.
Step 1 (Advanced): Visit local social spots.
The first step is to get out of the house and venture into the world.
(Exploring the views you can see out of your window doesn't count!) ;)
So, the idea is to go where the single women are.
If you visit places where most people are there to meet other singles, your chances of meeting an interested woman are much higher than they would be elsewhere.
The challenge for introverts is that many of the places that draw single people are clubs, bars, and other places with highly social, crowded atmospheres.
And depending on the venue, many people might be more interested in hookups and casual relationships rather than serious dating.
If you just show up at random clubs downtown, you would be relying on trial and error to figure out which establishments skew more toward friendship and dating rather than casual hookups.
Happily, a few Toronto locals have already curated lists of great social hotspots and ways to meet people in the city.
(Once you click over, ignore the title of that article. Though it sounds like it was written with only "picking up" in mind, you'll notice if you look through the list that there are actually several great places to meet women who might be looking for a real relationship, too.)
The author is careful to include groups and activities likely to foster actual connections with people interested in making real friends (or something more!).
Keep in mind, you can still follow all of the tips even if your goal is to meet women for dating instead of just friendship.
Even if an interaction doesn't result in a date, you may make a new friend! Which is still awesome, of course.
One key thing to remember if you join these groups is that everyone else is likely there for the same reason you are: to meet a person (or a few people) they really click with.
Since that's the context, feel free to strike up a conversation with that attractive, quiet woman from your Thursday group; she'd probably love to be approached. ;)
Step 2 (Intermediate): Go out and have fun on your own!
The keyword here is FUN.
Sitting on a park bench wishing you could go over and join in that game of field soccer doesn't count! ;)
Get into the action and find something you really enjoy.
The idea is to…
be out in the world where you might find a woman you're interested in talking to,
enjoy a fun activity that naturally lifts your spirits,
make a great memory that can be turned into an interesting story for your next date,
find a new hobby or passion that could open up further social avenues, and
have a built-in conversation starter with any women out there doing the same activity you are doing.
Here's an example scenario.
You're out exploring an awesome ziplining park on your own. You've had a blast with the first half of the course, and your endorphins and feel-good brain chemicals are flowing.
As you move along the trail, you see a group of three attractive, happy women coming back from another course.
Since your adrenaline is already firing and you're in a great mood from the thrilling experience of flying through the trees, you're feeling confident and you'd like to approach one of them.
This is great, because you have several reasonable conversation starters that you might use.
Consider one of the following:
"How was course 2? I've only done the first one so far!"
"Oh wow, is that your own personal gear? It's different from what I rented… You must be regulars here!"
"I noticed there are three of you in your group, and I'm on my own. There's a buddy-line that has an amazing view, but they need an even number of people. Want to team up?"
See how it goes! Even if that group politely turns you down, you can smile and move on because you're having fun on your own anyway.
Win win!
If you need some ideas to get you started, check out these lists of fun places to check out:
Step 3 (Beginner): Master online dating.
Online dating can be an introvert's best friend. This is especially true if you're just getting started with dating or just starting to explore Toronto for the first time.
With online dating, you can…
take time carefully crafting your profile to display your personality,
meet women in a low-stakes way where rejection isn't scary at all, and
hold conversations at your leisure whenever you're in a social mood.
And when you're not in a social mood, you can put your phone down and take a break.
Stress-free!
How do you optimize your profile to make it easier to meet women in Toronto?
First, you'll want to make sure your personality shines through. This is just as true of the text on your profile as it is of your pictures.
Include lighthearted, fun pictures that clearly show who you are and what you like to do, and captions / descriptions written in your natural style.
You'd be surprised how many women swipe left instantly when they come across frustrating profiles like…
"Not good at writing these. Just message me to find out more!"
You'll have much better results if you put some effort into your profile right off the bat.
Essentially, you'll want to stay positive, warm, and friendly.
Join a dating site where you're likely to meet the right woman for you.
If you absolutely must date someone who loves board games as much as you do (or shares some other special interest of yours), you might want to try a niche dating site to find your perfect match.
For more general results (and likely a much wider pool of potential matches!) you might want to try one of the top 10 Toronto dating websites.
Here's another hint:
When you do find a special someone you seem to click with, choose from one of the lists in Steps 1 or 2 for a ton of fun first date ideas!
Conclusion on how to meet women in Toronto as an introvert: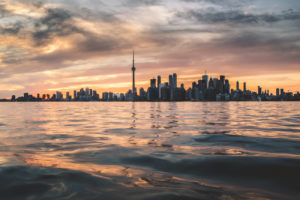 Now you know where to go to meet women in Toronto.
The next step is to brush up on your approach and conversation starters!
Let's recap today's post.
We covered…
getting out into the world of single people to meet women who are most likely to be interested,
going out and having fun on your own to meet women with hobbies you enjoy, and
using online dating as the fantastic tool for introverts that it truly is.
If you now have all of these tools in your toolbox and you just need to build the confidence to act on them, download our free ebook, "Why PUA Doesn't Work for Introverts & What Works Instead."
Also consider joining our ultimate confidence-boosting self-study program, Magnetic Confidence! It's made just for guys like you who want to unlock their inner benevolent badass and become unshakably confident.