At Introverted Alpha, we help smart introverted men attract women naturally by bringing out their unique best. The men we work with are kind-hearted, growth-oriented, and analytical by nature. Some of our clients are inexperienced with women in general, and others have been in long-term relationships or divorced and want to be thoughtful about their next chapter.
Wherever you're coming from, our programs are designed to meet you right where you are and support you as you internalize principles of dating for introverted guys.
Through our free material in our blog, ebook, email training series, and especially our coaching programs; we help our men meet women naturally, go on fun ideal dates, and become benevolent badasses, using their power for good, not only for themselves but for others as well. We help each client see what is specifically attractive about his personality type so he can draw that out for everyone to enjoy! 
The great news about bringing out the attractiveness that's already in there is nothing needs to be manufactured! Nothing needs to be copied, memorized, or canned. Rather, there are gentle processes, frameworks, and steps that specifically draw out what is genuine and wonderful in each of our clients, including their uniquely attractive thoughts and feelings, so they can showcase that effortlessly to the right women for them.
As they develop and shine more and more, it's not only their dating lives that take off! They get promotions at work, they start doing more things they love like hiking or cooking or organizing get-togethers, and they become more comfortable and confident in a variety of social settings. Many of our clients say they now feel more like themselves than they ever have.
The linear, logical introverted man is special. He needs an approach that is founded in what is familiar to him: reason, sequences, and deep-down resonance in his heart. Our guys are not only analytical; they feel deeply. They are intuitive, and so they need an approach that "feels right" in addition to "sounding right." They need both.
That's why we've designed our programs to both "feel right" and "sound right"… organizing the realm of emotions and the heart into an orderly format that satisfies the mind. We do this by sharing in a thoughtful, sequential way where concepts and practices build upon each other and enforce each other.
We also incorporate in-depth 1:1 personal coaching with our IA Coaches, which many guys say is the very best part of the whole experience for them. The way the materials and coaching play together equals a tremendous result for our clients, so tremendous that we haven't changed it substantially since January 2017. The way we work with our guys is perfect for them, and we are thrilled to help them so thoroughly and closely!
Our Introverted Alphas are all unique! Every single one of our guys comes in with his own personally-shaped hopes, dreams, challenges, fears, and questions. We love discovering more and more about how each of our guys is made, and how each has grown, during our time together with them.
A few qualities they have in common are…
Kindhearted and loyal. One thing our guys all share in common is a respect for people, for relationships, and for the bond that can develop between them and another based on kindness and earned trust. They want to find women who share these values.
Commitment to integrity and honesty. In the world of dating advice, they are looking for something substantial that connects with their values. Their integrity also means they are excellent clients; they follow through as long as they have a loving, supportive IA Coach in their corner to be there for them and cheer them on.
Fun-loving nature, even if buried! Our guys are sometimes quirky, often make us laugh, and always endear our hearts to them, whether they feel playful or not. We can see the hidden playfulness inside and we love getting to be the ones to draw it out!
At a stable place in their lives, ready to invest with us. It's not always the season to do an in-depth three-month program with a team of women, lol! But for guys who are in their words "done" with putting this off, and who are in a financial and logistical space to do this responsibly, we can get off to the races on changing their life trajectory together.
Many women tell us how dating an introvert is truly a gift, and we want to help you share your wonderful personality with the women who would be so grateful to know you!
Our mission is to refresh and uplift our clients so they can be their best and thereby enhance the lives of everyone they know and come in contact with. The best way to accomplish this is through our genuine, encouraging, step-by-step, and logical approach to dating and personal growth.
Our clients feel seen and loved as we open our own hearts to understand and value them, bringing out their unique best and helping them develop their skills in a sequential way. They see that they don't have to be the brash life of the party to garner respect, affection, and devotion from the kind of women they seek as partners in life. And whether they choose to line up great dates through online dating sites, apps, or in-person, they find their groove and find that their dating journey can be fun and meaningful.
Our Offerings - Dating for Introverted Guys
Many men ask how we got started! Here's the story… 
Introverted Alpha was founded in 2014 in San Francisco by Sarah, while she was at a friend's house for dinner. She had gone to coaching school at iPEC Coaching 2011-2012, and soon after, she came on as Head Coach for another dating coaching company to help them grow while learning herself, letting them know from day one she'd branch off and make her own company one day.
After a year of working with clients through the other company, Sarah found that her favorite ones were the thoughtful, analytical men who needed more support and encouragement to bring out their best and let women see their unique charm. So in April 2014, she took an online business course by Ramit Sethi, and in June, she was ready to launch.
Sitting at her friend's counter watching him make soup for dinner, she was telling him all about The Attractive Introvert, her new coaching business idea. He turned around, wooden spoon in hand, and said to her, "Have you considered a name like, The Introverted Alpha?" She had her laptop with her and immediately bought the domain. The next day, June 12, 2014, she was on the line with GoDaddy customer service who recommended she go with Introverted Alpha and drop the "the."
Within 10 months, her story was picked up by Business Insider who ran a feature on her business. As she learned and grew, she invited other women onto her team to help her with administration, coaching, enrollment, and writing. The company has been featured on Forbes, The Huffington Post, San Francisco Chronicle, and many more.
Today, Introverted Alpha is a fully remote virtual team of eight contractors all across North America, serving clients around the world. When the company began, it was the only one of its kind, serving specifically introverted logical men (though many extroverts go successfully through our programs too!). Today, it remains the only one. 
When any team member is telling someone about the business, the new person says, "You do what? That is so interesting!" Indeed, it is! We are so blessed to get to work with the amazing guys we do, in this company. We plan to continue growing in a healthy, loving way far into the future.
Sarah has always taken to helping people 1:1 by encouraging them, and she loves to create systems and strategies as well.
All her work is inspired by her Christian faith.
Over the years, she has gently shaped Introverted Alpha's main objective to be empowering men to self-actualize in their relationship to themselves, women, and others; and if they are open to it, our deepest pleasure and honor is to lead them straight into a 1:1 dynamic and fun relationship with God Himself, as Sarah believes He alone is the source of love, ultimate meaning, and purpose.
She holds that we are made in our deepest nature to be close to God through the miracle of His unyielding love and passionate pursuit of our hearts. Because of where Sarah has come to in her own life which has touched the depths of her own heart, to support our men in exploring this refreshing personal relationship with God if they so desire, is and will always be our highest honor and deepest longing as Introverted Alpha
Attracting An Amazing Girlfriend Starts with Finding Your Own Vibe.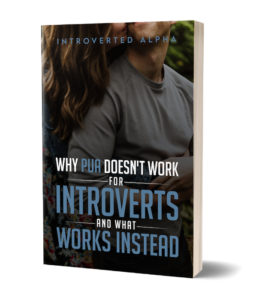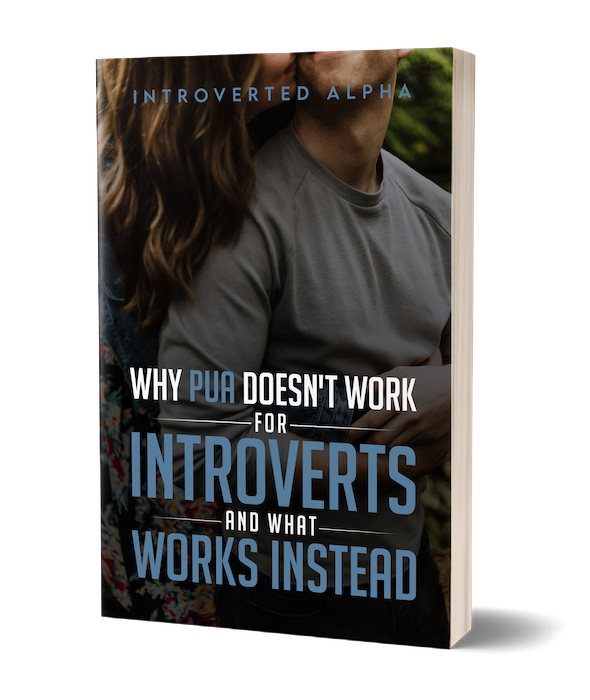 In this powerful free 22-page ebook, "Why PUA Doesn't Work for Introverts And What Works Instead," you will uncover… 
–> 3-step exercise to find what makes you uniquely attractive
–> Why the "pickup artist" approach will never work for introverts and what works instead
–> How to attract women naturally being your best self
"I love how personalized and caring you guys are at Introverted Alpha! It's so wholesome and refreshing." - I.
"I especially like how you're a strong alternative to short-term, shallow PUA tactics." - K.
"Your approach to the whole topic is really wonderful. Comforting, inspiring, and very helpful." - J.