12 tips to simplify dating for introverts
Have you ever felt like you waste time on online dating apps and dating sites? Furthermore, do you wonder if the chances of finding the perfect person for you and establishing a long term relationship are low?
Between navigating bad dates and filtering through deal breakers, you may be feeling a bit stuck. 
It's understandable to feel daunted by a dating world that seems to be custom-built for extroverts (cue the noisy bars, crowded parties, and corporate happy hours)!
If you feel like most of the popular dating advice out there doesn't work for introverts, you're right. That's because it wasn't designed for thoughtful, analytical men like you.
That's where we come in. Today, we're going to offer up some free dating help in the form of 12 dating tips especially for introverts.
Why consider getting dating help?
Did you know that a lot of dating advice recommends adopting a false persona? This approach is all about becoming a "pick-up artist" or pretending to be way more outgoing than you actually are.
The reason why that kind of advice doesn't work for you is simple: you're an introvert.
Instead of changing that beautiful fact about yourself, you need dating help that's made for you, supporting you to become the best introverted dating partner you can be and helping you find women who appreciate you for who you truly are.
When you internalize advice that's actually designed for you, then both your dating process and results will be authentically aligned with who you are!
Download this free 22-page ebook to get started, so you can read through it and complete the helpful activities after you finish reading this post.
Grab your copy here to have it sent straight to your email address. 
Now, let's dive in! 
1. Embrace your depth.
When it comes to social interactions, many introverts find that less is more. Sound familiar?
Do you prefer depth with fewer people over broad, surface-level connections with many? Your preference for depth creates an environment where steadfast, long-term relationships can thrive with lots of trust and stability, an atmosphere women find very attractive!
Quality over quantity is the way introverted men best connect with others.
2. Discover your strengths.
In order to determine whether a potential partner's values align with yours, you'll need to pinpoint what's important to you.
Here are a few questions to help you start thinking about your strengths:
What do you lie awake at night dreaming about? 

What breaks your heart with compassion?

What's something that challenged or shaped you into who you are?

Where do you want to be in five years? What do you see yourself doing?

What are you really, really good at? How did you get so good?

What would your friends say is the number one best quality about you?

Which activity makes time fly by because you're so absorbed in it?
When you move toward those values, prioritizing and reflecting on them, you may be surprised at how your sense of self flourishes.
This level of self-knowledge and self-awareness is something women find incredibly desirable in a partner.
3. Seek out women who share your values.
Of course, this process begins with you nailing down your values if you haven't already! That way, you have a list of essential criteria to match as you look to connect with women. For example…
Let's say you value physical fitness and good health. If you want to be with someone who feels the same way, consider saying hello to a woman you see at the gym a lot.

If it's important to you that your partner shares your faith, attend gatherings or other services at your place of worship and get to know the women there better. Sometimes "singles only" Bible studies or events are offered. Ask your church if they have any coming up.

Are you a dog person? Take your pup to a handful of local dog parks and see who you might hit it off with! Pets are a wonderful way to start a conversation with someone else.
By thinking about your values ahead of time and prioritizing which ones are important to share, you'll be able to recognize a compatible partner when she comes along!
4. Ask yourself who your ideal partner would want to date.
Just like you are now, perhaps your future wife is out there thinking of the traits she wants in her ideal partner as well.
As a fun thought-provoking exercise, try to imagine her list! Is she looking for someone who likes spending time outdoors, loves to travel, or enjoys volunteering in their community?
5. Become the person your ideal partner would want to date!
Many people understandably get so focused on finding the right person that they forget about being the right person.
The number one way you can improve your dating life is through personal growth… and the great news is that your own growth is totally within your control!
Time will pass whether you spend it sitting on the couch or working tirelessly toward a goal, so you might as well use your time to become the best version of yourself that you can be! You may even surprise yourself and realize that you have a great time as you remain steadfast in your pursuit to better yourself.
6. Challenge your comfort zone.
Some introverted men hope that an outgoing, beautiful woman will walk up to them and get the ball rolling without them having to initiate a conversation.
The truth is there's no quick and simple trick that will make women flock to you within your comfort zone. Stepping into the world of dating means stepping slightly out of your comfort zone in social settings as you seek to make new connections with new people.
This does not mean you have to pretend to be an extroverted pick-up artist! Think of it as a personal growth opportunity to develop your conversation and flirting skills in a way that's still authentic to you. Because of the introspection required, personal growth is an area where introverts thrive and have fun! 
7. Approach women.
Whether bonding over the sunny day, outrageous traffic, or brand of yogurt you both have in your grocery carts, you can absolutely start a conversation in a seamless and natural way.
Seriously, it can be that simple! For some dating help on how to make that interaction go smoothly, check out this post on "Conversation Starters for Talking to an Attractive Woman."
8. Take small talk up a notch.
Striking up a conversation opens the door for further connection, and you'll never know where the moment will lead unless you take the chance and talk to her! 
Check out this article for some ideas on exactly how to take small talk with a woman to the next level.
9. Study the art of flirting.
Successful flirting comes down to someone's ability to send and read signals without having to overtly state their intentions. As an introvert, you may think that the world would be much simpler if everyone said exactly what they meant!
Here's the inside scoop: people do convey exactly what they mean, if you know how to interpret the language they're using.
Just like anything else, flirting is a skill you can practice and learn, so check out our collection of articles on flirting for more in-depth dating help in this area!
10. Know your worth.
As you consider what kind of partner you'd like to be, it's also important to be in-tune with what makes you a great partner right now.
Knowing why you're already desirable and worthwhile as a date not only helps you attract women, it also helps you maintain a healthy relationship once you find one.
Hint: Our ebook was designed to help you with this, especially the confidence-boosting exercise on page 8!
11. Set (and enforce) firm boundaries.
Sometimes, if an introverted man struggles with meeting new people, he may feel a sense of extra pressure to bend over backward to make a relationship work when maybe it shouldn't.
Letting go of a relationship can be scary (understandably!) because it means not only facing loss but also venturing back out into the world of dating to find a new connection worth developing. That's why knowing yourself is so important:
Being in touch with your self-worth means knowing what you can and cannot tolerate in a relationship.
For starters, high self-worth means knowing that you deserve to be treated as well as you treat someone else. If you're hesitant to enforce your personal boundaries, the time may have come to either strengthen your boundaries or move on.
Walking away from a relationship that isn't right for you is so much easier when you can remember why you were great before this relationship, and realize you'll be great again after it! Years later, you will look back on that time period of your life and be thankful you put yourself first and didn't settle for less than a partner who treats you well.
12. Give yourself plenty of time and space to get dating right.
Growth takes time, so be patient with yourself as you decide what feels right to you.
You may six months into your first relationship to get the hang of what you're truly looking for, or you may engage in a gradual process that spans a longer stretch of time and several different relationships.
No matter what pace you learn at, celebrate how far you've come since you started! Any amount of progress is wonderful and to be celebrated!
Final bits of dating help for introverts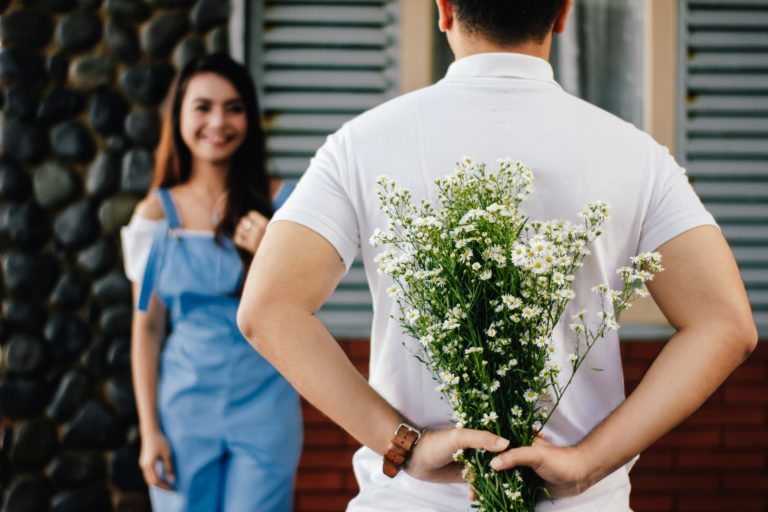 While these tips may take some time to implement, pick the ones you think will be most effective for you and start there!
Putting in the initial hard work (time, effort, patience, and persistence) to develop your dating leadership is the most effective step you can take.
Your Next Steps
Here's what to do next to make sure your dating and leadership skills keep improving:
In Magnetic Confidence, you'll discover how to…
Get noticed by quality women,

Replace "nice guy" patterns with genuine strength, and

Develop an unshakable sense of self.
Of everything we're passionate about for you, drawing out your unique, genuine self is top of the list! Knowing yourself is your first step to creating wonderful, exciting connections with others.
Start developing a magnetic confidence of your very own today.