How to strike up a conversation
Has this ever happened to you? An attractive woman enters the room, and her body language indicates that she may want to start a conversation with you.
Before you get a chance to break the ice, your mind starts spinning…
Should I use a pick up line?

How can I make sure the conversation flows well?

Small talk is so challenging.

Let's see if I can think of any good conversation openers…
In the blink of an eye, the moment has passed you by as you see another person talking to her.
Happily, this situation can unfold very differently!
Whether you find yourself at networking events, grocery stores, religious gatherings, or scrolling through Hinge while you watch TV shows, we've got your back.
Today, we're going to cover nine tips and conversation starters for introverted men.
By the end of this post, you will feel more comfortable with approaching women you're interested in! 
Why is it important to have good conversation skills?
When you know what to say, you'll feel much more comfortable striking up a casual chat with someone!
While knowing what to say is one important step, your authentic steadfast confidence is the glue that holds the conversation together once it starts.
True confidence is paramount to every conversation filled with joy, curiosity, and chemistry.
That's exactly what this free 22-page ebook helps you with: building your confidence so that you can have an enjoyable interaction with anyone!
Download it here so you can refer back to it after you finish this post.
Now, let's dive in! 
Nine tips for introverted men wondering how to start a conversation
Connecting in person can feel different than starting a text conversation. If you're unsure where to begin, choose one or two ideas from this list and start practicing them throughout the course of your conversations!
That way, you can say what feels more comfortable to you when an attractive woman catches your attention.
Always remember, when it comes to starting conversations… context is everything. Some of these suggestions only work effectively in certain settings.
That's why we recommend you save this post (screenshot, bookmark, or send a link to yourself) so you can refer to it whenever you need to!
Find common ground

(often this comes in the form of a mutual experience as it's unfolding or your shared environment),

Start with a sincere compliment

,

Highlight common areas of interest

,

Pay attention

to her and make a positive comment about something she says or does,

Ask an open ended question

,

Inquire about a few of her favorite things

(restaurants, movies, and songs are great options!),

See if you can get her opinion on something

(this subtle conversation starter quickly lends itself to longer conversations!)

Ask her casually if she's done xyz

(for example, you can ask her if she's tried the crepes here), 

Encourage her with sincerity

("I really liked the way you held that door for the older gentleman. That was a really kind gesture.")
Remember: Your conversation will naturally flow when you both feel comfortable. More important than learning these conversation starters is your ability to make the environment feel as safe and warm as possible for the woman you're talking to.
The #1 good conversation starter
Sometimes, no matter how hard you try, you're left speechless when the time comes to strike up a chat. It happens to everyone, and it's okay!
If that happens to you (or even if it doesn't!), this is any easy conversation starter you can always fall back on:
"I noticed you, and I had to come say 'hi.'"
We love this approach because…
It's only 10 words long,

This phrase fits in any context,

It's honest and direct without feeling overbearing, and 

You don't have to add anything to it if you don't want to.
Plus, it gives the woman an opportunity to react authentically! You'll know immediately if she's reciprocating the same interest you have in her based on her response.
Conclusion on how to start a conversation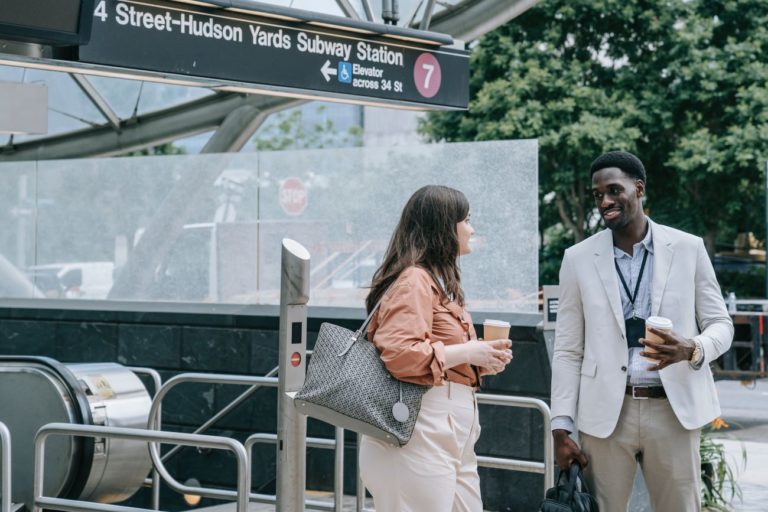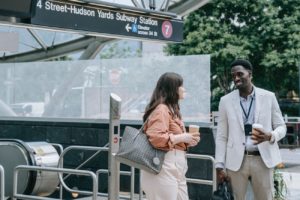 A genuinely interesting conversation paves the way for a woman who's likely to become genuinely interested in you!
Now that you know how to start a conversation, you'll be able to engage in a natural way that makes the woman you're talking to feel comfortable.
Your Next Steps
Here's what to do next to make sure your dating and leadership skills keep improving:
For more advice, read this article about

approaching women

or this one about how to

continue the conversation via text

.

Download our free ebook,

"Why PUA Doesn't Work for Introverts & What Works Instead"

to build these dating skills on a foundation of confidence!

For more personalized support, consider our Become A Benevolent Badass program.
Become A Benevolent Badass is our in-depth, 1:1 coaching program that will put you on a self-development fast-track while showing you the best way to…
Find your personal true north,

Bring out your best around others, and

Become an intentional social leader.
To feel confident while connecting with anyone in any social setting, express interest to us about Become A Benevolent Badass today, right here on this page.