Have you ever asked, "Should I text her first?"
If you find yourself asking, "Should I text her first?" and you do decide to text her, perhaps you're not sure what to say. Happily, texting a woman you're interested in is exactly what we're going to cover today!
When it comes to developing a relationship, many introverted men find themselves searching for texting advice that will help things progress smoothly.
Did you know that the first cell phones were sold in 1983, and the first text was sent in 1992? Even though that may not seem like very long ago, texting etiquette has become very nuanced over the past few decades.
If you're an introverted man who is trying to figure out how to best be texting women during the early stages of a relationship, you're not alone! Many introverted men wonder about the same thing, so we tailored these recommendations especially for you.
Today, we'll cover…
Some pros and cons of texting,
4 ways to know whether you should send her a text, and
What to send if you decide to text her first.
By the end of this post, you'll feel confident as you decide whether or not to text her first!
The role of confidence in texting and dating
Drumroll!… The answer to the question: "Should I text her first?" Once you first get a woman's number, whether in real life or through an online dating app, DO always text her first! As a man and natural leader, this sets the tone for your budding relationship nicely.
While texting skills are helpful when starting a relationship, there are other deeper variables to consider as well.
The deepest variable you can control in the early stages of a relationship is your own palpable confidence in what makes you uniquely wonderful in the first place. So, before we continue, download
this free ebook
, and do the exercise in it once you've read this post!
Many introverted men find that the potential of a new relationship can be a great catalyst for self-discovery. That's where our ebook comes in: to help you build your confidence, stay true to yourself, and honor what makes you unique so that your texting tendencies (and your whole relationship!) feel authentic and consistent with who you are.
Now that you know the answer to "Should I text her first?", let's dive into some tips that will answer any texting questions you might have!
Consider these pros and cons of texting.
When you're figuring out whether you should text her or not during the early stages of a relationship, the first thing you should do is remember the bigger picture! Instead of analyzing wording and whether to press "Send," let's take a bird's eye view of the situation for better perspective.
Explore the pros of texting in the early stages of a relationship.
Texting comes with so much goodness!
1. It allows both people to craft communication more intentionally. Without the pressure of responding immediately, like we do in person, texting allows people some time to think through what they want to say.
2. Texting offers a simple way to connect. While in-person conversations can sometimes become quite complex, texting offers an easier alternative.
3. Texting can help reveal how interested she is. This casual approach allows you to test the waters in a low-pressure environment.
4. It can make rejection easier to process. If she lets you know via text that she's not interested or simply drops off the map, finding that out through text can be a softer option if the relationship is just beginning.
Consider the cons of texting.
It's also worthwhile to keep the potential drawbacks of texting in mind as you decide whether or not you should communicate something specific via text compared to in-person.
1. It can feel impersonal. In the absence of a face-to-face interaction, texting can seem a bit lackluster. This can feel especially true if one or both texters are trying to reply while their attention is divided elsewhere.
2. The lack of nonverbal communication may leave room for miscommunication. Texting can sometimes create opportunities for miscommunication. If a message is unclear or misinterpreted, it may not be received in the way it was intended.
3. Because of the two tips above, too much texting can become a distraction from important commitments. Whether a texting conversation becomes an obstacle to work responsibilities or it simply disrupts someone's degree of social engagement with friends, it can sometimes turn into a bit of a nuisance.
Despite some of the downsides to texting, it's worth noting that these cons can be mitigated with good communication practices!
For example, if the texting conversation doesn't feel as personal as you want it to or if it's becoming a distraction, definitely communicate that you'd like to see her again in person (something we encourage you to do anyway!). When you're together, it may be a good idea to get on the same page about texting expectations and how you can approach it in a way that works well for both of you!
4 ways to know whether you should send her a text
Before you make a decision about texting her first, know that it doesn't have to be perfect. Many introverted men can hold themselves to standards of near perfection… and while the desire for excellence is a beautiful and admirable trait about you, it's important to make sure it doesn't become a roadblock to sending that first text.
If you think you might be holding yourself to impossibly high expectations texting first, you can reframe it as a learning opportunity and prioritize connection instead!
Now, if you find yourself asking, "Should I text her first?"… take a look at these signs and scenarios.
1. "How can I figure out what (or when) to text after our first date?"
This part of dating is an art more than a science… which means you'll want to trust your own intuition above any popular dating advice. Depending on when you get home from your first date, the best time to text her is that same evening or perhaps the next morning.
In this follow-up text after your first date, you can communicate how much you enjoyed your time together and check on her! Consider thanking her for spending time with you and either confirming that she got home okay or wishing her a good night of sleep.
You can also incorporate something memorable or funny from your date. If you're feeling unsure, it's best to keep the text messages simple!
2. "Do I have to wait a certain amount of time before texting her?"
If you've grown skeptical of the arbitrary "3-day rule"… you're absolutely right! There's no need to pretend you're not interested when you are. The best dating experiences are respectful, honest, and considerate. For a woman of character, that is extremely attractive.
As such, prioritize maintaining a warm connection! Touching base with her sooner rather than later affirms your interest in her and keeps the momentum going as you build a connection.
Remember that what you say is safely nestled into the greater context of how considerately you say it and the fact that you wanted to reach out.
If you're feeling a little lost, stick to the same etiquette as you would for phone calls: reach out at a time of day when you won't be distracting her from something important or waking her up while she's sleeping.
3. "What if I haven't heard back yet? Should I text her again?"
If you sent the last text and she hasn't responded yet, no need to worry! Simply give her a little bit of time (a day, perhaps), and then reach out again in a positive, engaging way. For example, you can send a girl a text about something you saw that made you think of her, and let her know that you hope she's having a great day!
If you don't hear back again, wait a few more days and then send one more fun text. For example, if you come across something you think she'd like, that would be a great sharing opportunity. You can keep that text short and sweet by saying, "This made me think of you!"
After that, if you still haven't heard back from her, it's okay to let it go! For more helpful ideas, go here for what to do if she doesn't respond to your text and if you should text her again.
4. "If she replies to my text and says she's busy, how should I respond?"
If she is focused on something consuming or urgent in her life, it's natural that she might not be able to add an ongoing text conversation or planning another date to her list at the moment. No need to take it personally!
Rather than reading too much into her interest level, practice being supportive, calm, and ready to help if possible. Then, keep your eye out for other ways to read her interest level, so you can be aware through multiple indicators (for example: her kindness to you, her excitement to see you, her follow-through, et cetera)
If she is going through a busy season, do your best to maintain your confidence and keep your outlook positive. This will help you pick up where you left off once things settle down for her. Your patience and understanding will mean the world to her if she has a lot on her plate!
What to send if you decide to text her first
One thing many analytical introverted men find challenging is deciding what to say.
Here are a few tips that will help you figure out what to text a woman you're interested in or a girl you just met:
1. Don't just text "Hi/Hey/Hello"
Although it may seem like a safe way to start a conversation, it can come across as a bit generic and dull. This is one of the mistakes guys make when texting girls. Happily, with a little creativity, you can add some flair to your message in a way that makes her feel special when she opens it!
For example, you can send her a text where you…
share some information with her,
make a reference to something you experienced together,
ask her a question, or
tell her why you were thinking of her.
With any of these engaging and chivalrous texts, she'll be much more excited to text you back!
2. Early in the relationship, gently guide your texts around making plans.
Texting too much before you know each other can make you overthink what you say and do on your dates. Since texting allows for so much time to think up creative responses, it can make it challenging to feel natural when you're together.
Instead, help your in-person chemistry thrive by sending texts to suggest or confirm specific plans. Rather than a vague "Wanna hang out this weekend?" you can suggest taking her out to dinner on Thursday or Friday evening, for example.
Bonus Tip: If possible, suggest getting a type of food she likes or trying out a restaurant the two of you talked about in a previous conversation! If you want more date suggestions, check out these fun non-alcoholic date ideas.
3. Keep the conversation relaxed.
To keep the vibe positive and upbeat, you'll want to avoid sounding pushy or like you're giving an interview. Err on the side of texting sparingly and take your cues from the flow of the conversation.
A good rule of thumb is, don't text over and over again just to create idle chit chat, especially if you're not getting a response.
It's easier to stay calm and confident if you pay attention to the responses you're getting. If you notice that you're doing most of the talking or you're only receiving one- or two-word responses, she may be losing interest.
Don't call her out, though! Instead, once you know you did your best, make peace with letting the conversation taper off naturally. Who knows, she may even re-initiate the conversation if she's interested!
4. Give your grammar a quick once-over before hitting send.
Different people have different preferences when it comes to grammar and texting, so it's best to play it safe with somewhat proper grammar during your early texts with her. Bad grammar or unnecessary abbreviations can come off as being disinterested or lazy, while good grammar shows that you care and that you take her time seriously!
When it comes to punctuation, try to mix it up! Using all periods can feel too final or serious, while using all exclamation points may seem overwhelming. It's a good idea to aim right down the middle and show your excitement as well as your dependability.
Keep in mind that a few mistakes scattered throughout your texts are nothing to worry about. Human thumbs and tiny smartphone letters aren't the most compatible things, so it's only natural to have a few typos!
5. Use emojis and other images thoughtfully.
A text these days can contain a whole lot more than just words and punctuation. Now, texts can often be accompanied by emojis, gifs, pictures, videos, and other text animations.
When you've just started texting a girl and you're deciding whether to include or attach any of those visual aspects to a text, it really comes down to "reading the room." If you haven't heard of it, reading the room is an idiom which is defined as "understanding the emotions and thoughts of the people present."
Consider your texting conversation as its own "room," per se. A few smiley face emojis throughout your texts can add some light-hearted positivity, and there's no harm in using a gif that's related to the topic at hand or something the two of you talked about previously.
If you can tell that she's not really vibing with the extra flair, though, it's okay to leave it out!
Final thoughts on texting while dating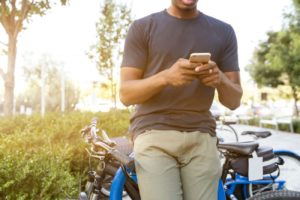 Now that you know how to text a girl skillfully, you'll be able to engage authentically and effectively as you're getting to know the woman you're interested in!
Let's review. Today, we covered…
Some benefits and drawbacks when it comes to texting,
4 ways to know what to do when you're wondering, "Should I text her first?", and
What to say if you decide to send that first text.
Don't forget to download our free ebook. Inside, you'll find an exercise that will help you better understand and embrace your best traits. This self-knowledge will help you text in a way that reflects who you truly are. Get your copy here.
Sometimes, especially when it comes to dating and texting, your situation may require more in-depth guidance. To get a feel for how we could help you 1:1, check out our personalized dating coaching program: Launch Your Dating Life!
Over the course of 12 weeks, you'll learn from in-depth training modules, 12 weekly one-on-one coaching sessions with your own dedicated IA coach, and unlimited email support. Apply here so we can see if this program is right fit for you!