Fun Date Ideas That Don't Involve Drinking
Are you looking for date recommendations beyond grabbing drinks? If so, we have some fun non-alcoholic date ideas for you!
If you're someone who doesn't drink, doesn't drink much, or wants to drink less, you are not alone. In fact, many of the men here at IA feel the same as you.
The best date ideas give you and your date plenty of time and space to get to know each other with no pressure. If you're an introverted man hoping to enjoy one another's presence without the influence of alcohol, we've made this list especially for you!
While alcohol may be present in or near the venue in some of these date ideas, it won't be the focus or purpose of the date. With that being said, if you do want to enjoy the atmosphere of an upscale bar or lounge without drinking alcohol, you can always enjoy a soda or a tonic water with lime.
We've organized our alcohol-free date suggestions into these categories…
Grab a bite or non-alcoholic beverage,
Enjoy time in nature,
Plan a date at home,
Expand your horizons,
Take in some culture, and
Get active.
By the end of this post, you will be able to choose from lots of fun, non-alcoholic date ideas!
Why is this so important in the first place?
There are so many great reasons to avoid alcohol. Whether you've made this beautiful choice for religious, health, family history, or other reasons, there are many other people who've also decided to avoid alcohol!
Despite what culture would have us believe, 30% of Americans don't drink at all, and another 30% have less than one drink per week (according to the Washington Post).
Your decision not to drink indicates confidence in your beliefs, which is wonderful.
It's a beautiful, healthy thing to know yourself well. You can get to know yourself even better by completing the exercise in this free ebook. We've crafted this resource to help introverted men build confidence and know themselves better. Get your copy here!

Now, let's explore these enjoyable, non-alcoholic date ideas!
Grab a bite or non-alcoholic beverage.
Of all the date ideas differentiated from the bars and clubs scene, getting an alcohol-free beverage or enjoying great food together is the easiest go-to.
1. Go out for coffee, tea, or hot chocolate
This date option is cozy, low commitment, and delicious. Coffee and tea shops are generally easy to find and offer a great vibe! Do your best to opt for a place more unique than Starbucks.
2. Get cookies or ice-cream
Grabbing dessert is a playful date idea! It can be a great expression of yourself while creating a fun environment for the two of you to connect. Ice-cream cones, cookies, cupcakes, and chocolate shops also offer creative alternatives to grabbing a drink.
3. Street food and food trucks
Food trucks are perfect for a full meal without requiring a sit-down dinner. Street food often pops up at festivals and community events. Some places have food trucks in the area on weekends, and many cities have street food regularly along a walkable part of town.
4. Plan a coffee date taste-test tour
Instead of going to one coffee shop for the whole date, bounce around to a few different ones! The new stimulation in each environment can spark fun conversation and keep the excitement high.
5. Go out for a decadent dessert
It can be as casual as getting fro-yo to go, or go a bit more glam with a late-night reservation at an impossible-to-get-into restaurant and sample some of their desserts!
6. Go out to breakfast or make brunch together
Ask around for brunch suggestions, or read Yelp reviews to find a great, new place to test out together! If you'd prefer to stay home, you can find a recipe you're both excited to work on together.
Enjoy time outside.
Time outside often can be refreshing and invigorating between the fresh air and sights to see. If you're hoping for an environment that will provide endless conversation topics, the outdoors will not disappoint!
7. Walk around a park
This one can be uniquely fun in each different season! You may spy leaves changing, the first snow, new spring blooms, or an expansive blue sky. A refreshing walk at the park can spark conversation naturally through people-watching, new sights, or other shared experiences.
8. Pack a picnic
Perhaps there's a spot with a great view or a special place you can show her that holds some special meaning for you. Enjoy it together while sharing a delicious picnic lunch!
9. Take your dogs for a walk
If one or both of you have a furry dog friend, playing with animals together can be a fun, light-hearted way to bond! Even if you don't have one, remember how special pets are to a lot of people. You can show her how much you care by being playful and gentle with hers!
10. Attend an outdoor film screening or a drive-in movie
Many cities host movies at local parks. Drive-in movies make for great, nostalgic, non-alcoholic date ideas. Don't forget to bring yummy movie snacks, popcorn, and candy!
11. Try a ropes course, go ziplining, or explore rock climbing together
This is a very adventurous date idea! Taking a risk together will get you both out of your comfort zones (not to mention the adrenaline rush!) while giving you something fun to talk and laugh about during future dates.
12. Set out a blanket for star-gazing on a clear summer night
Check out these apps to help you find constellations as you admire the beautiful sky!
13. Go to a parade, carnival, or state fair
Talk about some unique, non-alcoholic date ideas! There may be fun food, exciting rides, or games with prizes. You can learn more about each other's preferences and connect through the shared experience throughout the day!
14. Plan a camping trip with a fun group
If you know each other pretty well and have met some of each other's friends, this one can be great for creating fun memories together.
15. Have fun like a kid again at an amusement park
There's nothing like a good rollercoaster dip to get your adrenaline pumping. You can get some silly photos taken in a photo booth and enjoy fun food together, too.
16. Take a stroll through the local farmer's market
Many streets in urban areas are decorated with stands on a weekly basis throughout the summer or as the weather permits. At many farmer's markets, you will be pleasantly surprised by the variety of things to see and buy.
While there, you can…
pick fresh flowers for the woman you're with,
enjoy a sweet treat or pastry,
shop for fresh produce,
try different refreshing drinks, and
get to know local small businesses as you stroll through!
17. Find a nearby apple orchard
This date idea is especially great for an autumn day. You can both pick a bushel of apples, and if that goes well, you could make an apple treat together like pie or cinnamon apples!
18. Find hot springs nearby
Locals often swear by the natural, therapeutic benefits of the minerals found in hot springs. It also offers a fun, relaxing way to unwind and connect.
19. Rent a boat
Nothing says "adorably romantic" like going out on a boat. Even if you don't live near the ocean, perhaps there's a lake nearby to check out. You can also enjoy the water on a canoe, rowboat, or paddle boat.
20. Plan a rooftop picnic at sunset
This is a romantic and playful option. You can create a delicious charcuterie board to snack on and curate a playlist to match the vibe you're aiming for!
Plan a fun, relaxing date at home.
If you don't feel like going out, there are plenty of wonderful, non-alcoholic date ideas for an enjoyable night in.
21. Pizza delivery and cookie bake-off
Find out what her favorite type of pizza is, and grab the basic ingredients for cookie baking! You can eat before you bake or while the cookies are in progress. If baking isn't for you two, you can always purchase some premade cookies or opt for cake decorating with fun frosting and sprinkles instead.
22. Play video games
This can be a fun way to create some friendly competition! Find out what games she might enjoy, or go for the nostalgic element and pull out the GameCube or old gaming system for something simple like MarioKart.
23. Host a themed movie night and invite a few friends each
You can pick a theme based on the actors in the films, the genre, or the year the movies came out. This fun, low-key, non-alcoholic date idea is a way to enjoy being together while getting to know each other's friends!
24. Cook a unique meal together
Whether you choose to hand-make your pasta from scratch or opt for an adventurous, ethnic recipe, working together to make something and then enjoying it together is a great bonding opportunity.
25. Play your favorite board games or learn a new one together
Maybe she's more of the Scrabble sort, and you prefer Settlers of Catan. If you want to try some new games, experiment with something like Exploding Kittens or Taco Cat Goat Cheese Pizza! Otherwise, you can always fall back on something classic like Jenga or puzzle games.
26. Dinner and paint night
Painting-while-drinking events are popular date ideas, where you paint while having a glass of wine at an art studio or bar. Why not recreate a booze-free version at home? Invite her over for dinner and set out some paint packs or paint-by-number sets. You'll get to know each other in a way you might not have expected!
Expand your horizons.
Taking in thought-provoking information on a date can naturally inspire meaningful conversation and great connection!
27. Reserve seats for a planetarium show or visit an aquarium
If you're looking for engaging, educational, non-alcoholic date ideas, these will provide a wonderful opportunity for you both to learn something new while enjoying the wonders of nature. As a bonus, it will continue to provide conversation topics even after the date is over!
28. Take a cooking class together
Whether you're known to be savvy in the kitchen or not, this is a guided opportunity to learn something new. The best part? You get to eat a delicious meal at the end that you made yourselves!
29. Go to a poetry slam
The vibe here is often known for its passion, creativity, and wit. It's an upbeat environment that embraces vulnerability and honesty, and it is likely to leave you both in a thoughtful state. This can inspire wonderful conversation as you enjoy various performances and process them together afterward!
30. Attend a Conference for TEDx Talks
You can find conferences near you by following this link and sign up to attend. If there aren't any upcoming conferences near you, you two can always search for Tedx Talks online that will match your interests!
Take in some culture.
When you experience inspiring art together, it can be a great opportunity to get to know your date in a new way!
31. Go to a museum or exhibit you can walk and talk through
This fun, non-alcoholic date idea is the indoor equivalent of going for a walk at the park. As you go from piece to piece, you may see pieces that inspire a wonderful discussion you never planned or expected!
If the main museum in your area isn't showing anything of interest to you, go see a smaller art installation or check out an off-beat museum.
32. Check out a comedy show
You can't go wrong with laughter and a light-hearted atmosphere! Before purchasing tickets, be sure to check on any requirements (many venues require you to purchase two drinks minimum). Happily, there are many comedy shows that are also friendly to a non-drinking audience!
33. Go listen to a lecture you're both excited about, an mic night, or a book talk
These are wonderful, non-alcoholic date ideas when you share a mutual interest or an overlapping curiosity! It's fun to expand your horizons by learning new things, and what better way to do that than on a date? It provides great conversation fodder and will help you get to know your date outside of the typical topics, if you'd like a change of pace.
34. Visit the botanical gardens
Botanical gardens are an immersive, non-alcoholic date idea. It's an unforgettable sensory experience that is sure to spark wonder, conversation, and appreciation for nature.
35. Attend a play, musical, or concert
This is an experience the two of you will never forget! Appreciating others' on-stage talents can create a very positive atmosphere for the two of you to enjoy together.
36. Go on a city tour
Even if you've lived there for awhile, going on a tour can still be a blast. Free tours are available in most cities, and they're actually a super fun way to get to know the area (and each other!) better.
Get active.
When you're dating, there can be a lot of emphasis on conversation. Getting active together through one of these non-alcoholic date ideas will allow you both to build memories together and get to know each other experientially instead of just conversationally!
37. Go ice skating or rollerblading
Depending on the season (or the climate), these options are sure to bring lots of laughter! There's nothing wrong with feeling wobbly. In fact, it's a fun way to lighten up, laugh at yourselves, and make new memories!
38. Head to the driving range or batting cages
Whether you're a golf whiz, a baseball star, or neither, this is a fun, warm-weather, non-alcoholic date idea! Remember that you don't have to take perfect swings. Just keep the atmosphere upbeat by staying positive and encouraging the woman you're with!
39. Get your endorphins pumping in the outdoors
Hiking is a magical, romantic way to take in beautiful views with a date. If it's an advanced hike, it may be good to wait until you've been on a few dates together. It can be challenging to be out of breath while trying to make small talk.
40. Try a new fitness class
Whether you're considering Zumba, hip-hop, aerial yoga, or water aerobics, there are so many fun classes out there that you could experience together for the first time!
41. Go to the zoo
This is a classic non-alcoholic date idea! You can get to know each other by asking questions about favorite animals, places you've traveled to, and the travels you'd still like to experience!
42. Try your hand at mini golfing, ping pong, or bowling
These activities offer a subtle way to get to know each other experientially rather than relying exclusively on conversation. This is great news for introverted men! Pick something that sounds enjoyable for both of you and get ready to have an awesome time.
43. Give goat yoga a chance
If you haven't seen videos, look some up on YouTube! This non-alcoholic date idea is great for animal lovers, and it's absolutely hilarious when the little goats climb up people as they practice yoga!
44. Embark on a bike ride with a fun destination in mind
Whether you go for 2 miles or 20, a bike ride will give you a lot of time to chat… and it also won't feel awkward if you ride in silence for a while!
45. Embrace your inner child at a trampoline park
If you're both feeling playful and spontaneous, a trampoline park will be great exercise and an opportunity to share in some childlike joy.
A few more fun ideas.
46. Wander through IKEA together
Whether you need new furniture or not, a long walk through IKEA can be a blast! This is especially true if you're experiencing a cold winter and need an indoor, non-alcoholic date idea. Most IKEAs also have a food court or cafeteria with delicious options when you get hungry!
47. Check out the local pet shelter
You can go volunteer there together on a weekend or simply stop by to play with the cute animals! (You can also volunteer together in other ways. It can be so special to serve alongside each other in any capacity!)
48. Attend a sports game
This could be anything from a sibling or cousin's high school basketball game to the professional baseball team playing in your city.
49. Attend a local trivia night
Many bars and breweries offer trivia nights, so make sure you pick a venue you feel comfortable with. If you feel okay about alcohol being there, some bars also sell kombucha or other beverages. Happily, many other establishments also offer trivia nights without the presence of alcohol.
50. Sign up for an escape room
If you don't have one nearby, there are some very fun escape rooms you can order online like this one. You can set it up so that Alexa is your narrator while you two solve the mysteries!
51. Collaborate on a half-and-half date
You can plan one half of the date, and the woman you're seeing can plan the other half!
52. Find an arcade and play games
Whether you get a chance to play old school Pacman or Dance Dance Revolution, an arcade will be an unforgettable, non-alcoholic date idea for you two to enjoy!
Final Thoughts on Non-Alcoholic Date Ideas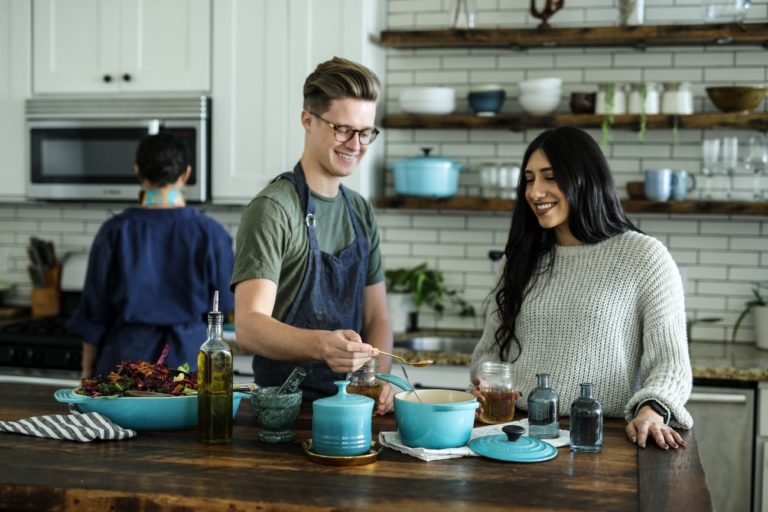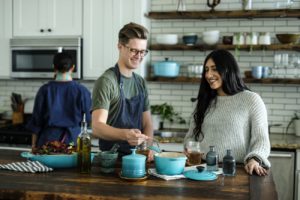 Now that you have some ideas for non-alcoholic dates to spice up your dating life, you can feel confident suggesting something other than getting drinks at a bar! From ice-cream to book talks to dog bonding time, you can find an inspiring idea for your next date.
If you'd like more support in getting those dates in the first place, or in leading things to a second date, that's what we're here for!
You can get started with our ebook on finding your own unique vibe. The ebook will help you embrace your best traits and thrive during your dates! Get your copy here.
For a self-paced program to attract women to go on all these fun sober dates with, First Touch to First Kiss is our 10-step sequence on going from first touch to first kiss with a woman, along with extremely detailed material on reading her well. This beloved program allows you to develop a thriving love life that reflects and develops the man you are.
Learn more here and find out if this fun, enlightening program is the right next step for you!