Flirting over text as an introvert
Have you ever wanted to flirt with a woman over text and the only thing that held you back was that you weren't sure what to say?
A lot of men we talk to wonder how to subtly flirt with a girl over text message. On one hand, they don't want to come on too strong, and on the other hand, they don't want to be so subtle that their texts don't sound flirty at all.
The great news is that there are four ways to flirt over text that fall between those extremes, and that's exactly what we're about to share today, along with some helpful examples!
Keep reading to discover word-for-word scripts that will leave you with several flirtatious texting options for each situation.
Why is texting so important when it comes to dating?
Here's what we love about texting:
Communication can be crafted intentionally without the pressure of a split-second response.
Texting offers a simple way to connect quickly and conveniently.
The casual context of texting is a low-stakes way to gauge how interested she is.
Plus, when you learn how to subtly flirt with a girl over text, you make your intentions clear AND get her excited to see you again!
Before we go further…
In order for your texting, flirting, and dating skills to truly soar, you first need to build your confidence by finding out what is uniquely attractive about you.
Reason being, confidence is what makes your text conversations (flirtatious or otherwise) come across as authentic in a way that matches your in-person vibe.
That's exactly what this free 22-page ebook helps you with!
Download it here, and complete the exercise inside after you finish reading this post.

Now, let's dive in!
Short and sweet messages
Whether you're connecting with someone you matched with on a dating app or someone you've already gone out with, keep in mind that the simpler the message, the better.
Short texts are a smooth way to encourage quick, intuitive banter that builds on itself and leaves you both excited to read the next text! Don't be afraid to use long texts later on in an established relationship, but for now keep it short and flirty!
Here are a few examples you can use or adapt to fit your needs:
"What are you doing this weekend? Besides hanging out with me, of course. :)"
"I'm missing your pretty smile. When can I see it in-person again?"
"This song just reminded me of you: ____"
You can also incorporate some emojis or GIFs for a little something extra without going overboard! Use them like you would use salt: a little bit can enhance the flavor of your message, while too much can feel overpowering.
Lighthearted banter
Flirting is designed to be playful and positive. By keeping it light, you prevent the conversation from becoming too serious or intense.
Your cheerful and upbeat responses help the woman you're chatting with to subconsciously associate you with positive vibes!
Check out these examples:
"I can't stop watching that show you recommended! How do you already know me so well?!"
"I wish I was with you instead of filing paperwork! Will you send me a pic of what you're up to?"
Alternatively, refer back to a budding inside joke to create a feeling of familiarity and intimacy, all while putting a smile on her face!
Authentic compliments
A genuine compliment will make your crush feel valued, desirable, and excited to talk to you more! Best of all, there are so many directions you can go with a compliment.
Consider adapting these to make them as honest as possible:
"I'm watching a show and there's a character who looks a lot like you… except not nearly as cute. :)"
"Secretly, every time I get a text notification, I hope it's from you."
"Just so you know… my phone is at 1% and I'm using the last of my battery power to say I'm thinking of you!"
Playful questions
While the three text categories above can be super effective, we especially love this category because it creates a clear invitation for a flirtatious response!
See what you think of these examples, and feel free to change them up to make them work for you:
"I just updated your contact in my phone. Can you guess which emoji I put next to your name?"
"Is it just me, or did we just knock the whole first date thing out of the park?"
"How am I supposed to be productive at work when I can't stop thinking about our date last night? ;)"
While texting can build interest and increase mutual desire, the very best way to flirt is still face-to-face in real life, so you can see her facial expressions. Flirty texts are a great way to pave the way to starting a conversation for that next date, and then be sure to show off those flirting skills in person!
Conclusion on how to subtly flirt with a girl over text
Now that you know how to subtly flirt with a girl over text, you'll be able to enjoy messaging women and building anticipation for that next date!
Today, we went over…
The four categories of flirtatious texting,
Examples of word-for-word scripts you can use, and
Extra tips to take your texting game to the next level!
Your next steps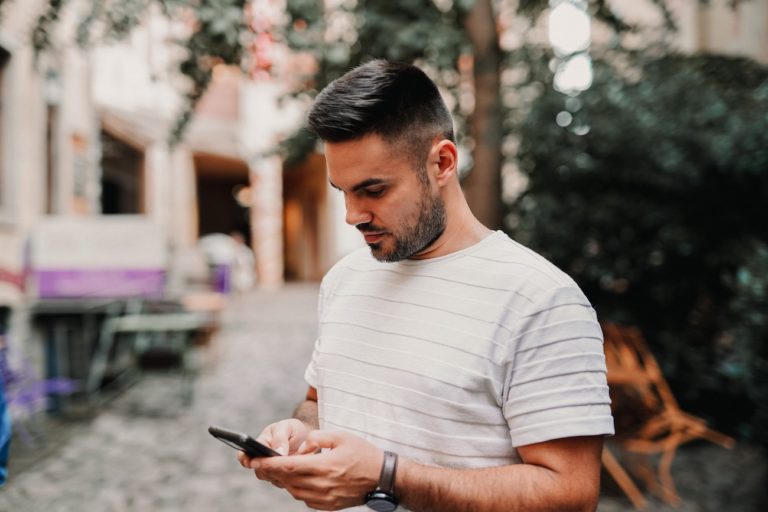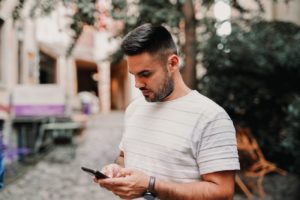 For more advice about texting, check out this article: "Should I Text Her First?" 4 Ways To Know + What To Text.
Download our free ebook, "Why PUA Doesn't Work for Introverts & What Works Instead" to build these flirtatious texting skills on a foundation of confidence!
For more personalized date coaching, consider our Launch Your Dating Life program.
When it comes to flirting with and dating women, your situation may benefit from personalized, 1:1 guidance from a professional team who cares a lot about you.
This powerful 12-week training program includes…
12 in-depth training modules,
1:1 weekly sessions with your own dedicated IA coach, and
Unlimited email support throughout!
Apply here to see if this program is right for your unique challenges and goals!