Fun Ideas for Dates Without Alcohol
Whether you don't drink or you're simply excited about experiencing unique dates without alcohol, we have some fun recommendations to share!
The best dates give people enjoyable opportunities to get to know each other. If you're an introverted man hoping to plan dates without alcohol, we've made this list especially for you.
This post is packed with 10 ideas that show bars as just one option in a sea of possibilities, along with fun examples to help you make the most of your date!
Dating and Alcohol
Your perspective on norms for drinking in America likely depends on which statistics you've heard.
While the national average for individuals spiked in 2020 to 17 drinks consumed per week, in general, 30% of Americans don't drink at all, and 30% have less than one drink per week.
So if you don't drink or simply limit your intake, you're actually in the 60% majority, despite how it may seem or feel.
Your decision not to drink can indicate confidence and commitment to your values and desires, which is very attractive to women.
That's because it shows emotional maturity and implies a healthy lifestyle.
To know yourself even better, complete the exercise in this free ebook after you read this post. We've crafted this resource to help introverted men build confidence and know themselves better.
Now, let's explore these enjoyable, non-alcoholic date ideas.
1. Plan a multi-part date.
Instead of going to one venue for the whole date, check out a few different ones! The new stimulation in each environment can spark fun conversation and keep the excitement flowing.
Here are some ideas:
Bounce around to several different coffee shops.
Plan a bookstore tour of the area and rank them at the end of your date.
Get a small serving at a few different ice cream parlors.
Collaborate on planning the date (you can each plan half of it!).
The great thing about a multi-part date is that if the vibe feels off at one place, you've got other options on deck! On the other hand, if you're both enjoying your time somewhere, you don't have to rush off until you're ready.
2. Head to a local park.
Time outside often can be refreshing and invigorating. If you're hoping for an environment that will provide endless conversation topics, the fresh air and sights to see will not disappoint!
You can…
Walk around the park together.
Pack a delicious picnic with both of your favorite foods.
Bring your dogs along for the fun.
See if there will be an outdoor film screening or a drive-in movie.
Set out a blanket for star-gazing on a warm evening.
Check to see if there will be a farmer's market.
Join a pickup basketball or volleyball game.
Find a comfortable bench and people-watch.
Consider taking her to a local park with a beautiful view or a nostalgic spot from your childhood. No matter where you choose to go, parks offer a peaceful, flexible environment ripe with opportunities for spontaneous fun!
3. Focus on food instead of drinks.
Of all the alternative date ideas to get away from bars and clubs, enjoying delectable food together is an easy, familiar option.
For example, the two of you can…
Get cookies or ice-cream.
Experience street food and food trucks.
Go out for a decadent dessert.
Take a cooking class together.
Go out to breakfast or make brunch together.
Ask around for restaurant suggestions or read Yelp reviews to pick a new place together! If you'd prefer to stay home, you can find a recipe you're both excited to create.
4. One word: GAMES!
This can be a great way to create some friendly, flirty competition!
Consider these ideas:
Play fun video games (either new ones or on a nostalgic gaming system).
Pull out your favorite board games or learn a new one together.
Find an arcade and play games.
Set up an obstacle course.
Plan a scavenger hunt.
Games are an easy-going way for dates without alcohol to be unforgettable and enjoyable for both of you!
5. Stay cozy at home.
If you don't feel like going out or if the weather isn't cooperating, these are some non-alcoholic date ideas for a fun night in:
Host a themed movie night.
Plan a dinner and paint night.
Cook a unique meal together.
Order pizza to be delivered.
Have a cookie bake-off.
Teach each other a new skill.
While new environments can be invigorating, introverts often find that the comforts of home and a private setting can feel comfortable. Plus, you can learn a lot about each other by how you choose to decorate, organize, and enjoy your space! (You can learn much more about this here.)
6. Learn something new together.
A somewhat educational date is an engaging and thought-provoking way to experience deeper, richer conversations, which is important for forming meaningful connections!
You'll be surprised how much fun you have if you…
Reserve a showing at the local planetarium.
Buy tickets to spend a day at the zoo or aquarium.
Attend a TEDx talk or watch old ones online.
Go to a museum or exhibit you can walk and talk through.
Go listen to a lecture you're both curious about.
Intellectually stimulating dates without alcohol provide unique conversation topics well after the date is over!
7. Experience live entertainment.
An upbeat, entertaining environment is a wonderful way to stir up passion and creativity. Conveniently, these dates without alcohol also stimulate great conversation!
Consider these ideas:
Go to a poetry slam or open mic night.
Get tickets to a movie you've both been wanting to see.
Check out a comedy show.
Attend a play, musical, or concert.
Pick a team to cheer for at a sports game, even if it's little league.
No matter what you choose, sharing a memorable experience in a lighthearted atmosphere will be a date neither of you will forget!
8. Enjoy time outside together.
Experts agree that spending time outside is good for you. It benefits your immune system, memory, mental health, and overall wellness. It also gives you a lot of time to chat as the day progresses.
The two of you will have a great date if you decide to…
Visit the botanical gardens.
Go for a hike.
Rent a boat and spend the afternoon on the lake.
Go to the zoo.
Embark on a bike ride with a fun destination in mind.
What's another wonderful thing about spending time outside? It won't feel awkward if you two enjoy your surroundings in silence for a bit!
9. Get active.
When you're dating, the ongoing emphasis on conversation can sometimes feel a bit overwhelming if you're an introvert.
Getting active together on one of these ideas for dates without alcohol will allow you both to share experiences, build memories together, and get to know each other in a different way:
Head to the rink for some ice skating.
Give rollerblading a try.
Head to the driving range or batting cage.
Sign up for a new fitness class together.
Try your hand at mini golf, ping pong, or bowling.
Rather than depending solely on conversation, many introverted men shine when they get to know someone experientially during these fun dates without alcohol!
10. Do something out of the ordinary!
These playful ideas for dates without alcohol offer an opportunity to laugh together, learn more about yourselves, and engage joyfully in whatever the date brings.
If you're feeling spontaneous, you can…
Let loose at a trampoline park.
Sign up for an escape room.
Host a murder mystery party.
Take an aerial yoga class.
When it comes to these unique date ideas, there's no wrong answer. Each date is an opportunity to show her a new side of you, and she'll revel in the chance to explore all the unique aspects of your personality!
Final Thoughts on Non-Alcoholic Date Ideas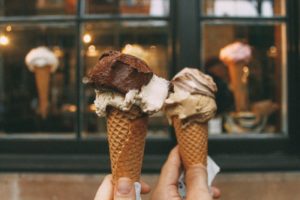 Now that you have 10 ideas (and lots of examples) for dates without alcohol, you can confidently make date suggestions that will make bars look like just another option!
Looking for more date suggestions? Check out these 52 ideas for dates without alcohol.
Here are your next two steps to be sure you enjoy your dates to the fullest!
First, download our free ebook, "Why PUA Doesn't Work for Introverts & What Works Instead" to build your confidence.
Next, consider boosting your dating success with 1:1 in-depth coaching in our Launch Your Dating Life program.
Through Launch Your Dating Life, you'll discover how to…
Be and feel sexually attractive,
Meet and connect with great women, and
Fill your dating funnel with quality dates.
Not only that, you'll also enjoy feeling more like yourself than ever thanks to this 12-week high-touch, comprehensive program.
Learn more here to see if this program is the right fit for you!