How to approach a girl for the first time
Approaching a woman for the first time can be nerve-wracking for sure! Overcoming approach anxiety to talk to a girl is not the easiest task ever.
If you're an introverted man and you're nodding your head in agreement, you're certainly not alone.
Some of the most common hurdles introverted men seek to overcome when they see a cute girl include…
Getting to a place internally where they feel comfortable around attractive women,

Reading body language and eye contact,and

Finding the right conversation starters.
That's why today we'll be sharing 10 detailed techniques to help you approach women, even if you've never approached someone before. These techniques are relevant whether you're at a coffee shop, friend's wedding, gym, or bar when you want to start a conversation with a girl!
We've helped hundreds of introverted men just like you learn how to approach women, form a deep and joyful connection, navigate the different stages of a relationship, and ultimately fall in love!
Dating Coach Moment: Big picture of approach
When you know who you are and what you're looking for, then you'll easily approach women with purpose and confidence.
The cornerstone of authentic confidence comes down to knowing what is uniquely attractive about you!
When you know what you have to offer, you'll naturally attract a woman who will value that and bring out the best in you, as you will for her.
Additionally, your confidence will turn any bad mood or even any bad day into a good mood and a good day, because you'll feel grounded and calm!
That's exactly what this free 22-page ebook helps you with!
Download it here so you can circle back to it after you read this post. 
Now, let's dive in! 
Approaching Women: 10 Techniques for Introverts
These 10 tips for approaching women are a great launching pad for developing your approach skills!
Before we share the list, remember these are skills. And any skill takes time as you build confidence in what you're doing, practice, reflect, modify, and keep improving!
Without further ado, these are 10 of the most effective techniques for introverts wondering about approaching a woman for the first time:
(1) Cultivate a warm, human-to-human interaction.
When you bring your full humanity into the way you relate, you make it more comfortable for others to be themselves. This creates an authentic, natural connection!
(2) Notice who you feel naturally drawn to as you walk into a room.
Their energy attracts you for a reason, whether their behavior makes you smile or earns your respect. Follow that magnetic pull!
(3) Make your way toward women you're interested in
(boldly, not aggressively!)
.
If you never try, you'll never know!
(4) Get in her line of sight and make flirtatious eye contact, if possible.
This can be as simple as a brief glance with a sincere smile before looking away.
(5) Say something to her to start the conversation!
Instead of putting too much pressure on yourself, cultivate a mindset of curiosity. You can even think of it like gathering data to reflect on later!
(6) See how she reacts to gentle, playful touch.
If she reciprocates, great! If she retracts, don't worry. Different people prefer different paces when it comes to touch.
(7) Maintain a strong sense of confidence no matter what happens.
Hint hint – download our ebook, mentioned above!
(8) Have a selective mindset and keep your standards high
(quality over quantity!)
.
Perhaps there are a few traits you like, a few characteristics you can't tolerate, and some non-negotiable shared values you're looking for. Make a list, prioritize, and don't settle on the big ones!
(9) Point out something you notice or admire about her.
Everybody loves a genuine compliment! It's an easy way to diffuse tension and create an amiable connection.
(10) Recognize and process any social anxiety that comes up as you hold tightly to your identity.
Come prepared with a coping technique or two, and remember – it's totally normal to feel a bit nervous when approaching a woman for the first time.
Like we mentioned above, this is only meant to be a launching pad. As you test out a variety of techniques, pay attention to what feels like it's working and what doesn't!
You may even find that after you spend some time reflecting and learning, you come up with a handful of other techniques you want to try.
The great news is that with every action you take followed by a purposeful period of reflection, you'll grow in new insights and ideas.
For a deeply detailed look into each of the techniques we listed here, read this comprehensive article: How To Best Approach A Woman As An Introverted Man.
Conclusion on approaching a woman for the first time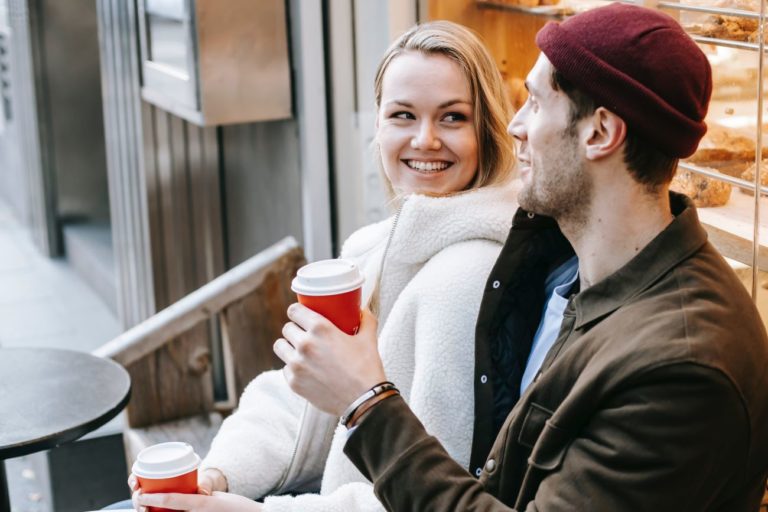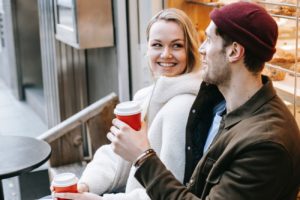 As much as you want to connect with women successfully, the #1 person you need to impress is yourself.
Ultimately, it's important that you make sure your self-expectations come from within, not from other people's agendas for you.
What you need to do next
It's time to take action. To keep leveling up your dating and leadership skills, here's your next step!
Consider our Launch Your Dating Life program for personalized dating support.
Do you want to…
Be and feel sexually attractive,

Meet and connect with great women, and

Fill your dating funnel with quality dates?
Launch Your Dating Life is our 12-week high-touch, comprehensive program that will help you do all of the above while feeling like the best, truest version of yourself! Learn more here.