7 of our best tips for introverted dating
Do you find yourself wondering why it feels a bit difficult to find good matches that can grow into thriving romantic relationships? If you're an introverted man nodding your head yes, keep reading!
Many men just like you feel discouraged with the introverted dating experience that leaves you seemingly lost in online dating apps and large groups where your beautiful personality traits don't get a chance to truly shine.
Happily, we've got your back. Today, we're going to cover 7 tips for introverted dating that will help you thrive in today's dating scene.
Why does all of this matter in the first place?
When you can showcase your best qualities, women will naturally be drawn to you and want to know more about you.
Before we go further… 
In order for any of this to be of use to you, you first need to find out what is attractive about you.
Reason being, when you're confident in your own skin, you exude an air of self-assuredness that women can't help but be curious about.
That's exactly what our free 22-page ebook helps you with!
Download "Why PUA Doesn't Work For Introverts & What Works Instead" now so you can circle back after you read this post!
Now, let's dive in! 
Release unrealistic expectations
As a person with an introverted personality type, you likely hold yourself to very high standards that may even border on perfection.
Remember that the first time you do anything, it's usually not perfect! There is always a learning curve when trying something new. The same is absolutely true for your first date with someone.
The early stages of dating can feel a bit awkward and fumbling for everyone, introverted or not.
When you can enter that first date expecting an awkward silence here and there, or anticipate that a few jokes may fall flat, you can free yourself up to genuinely enjoy the experience instead of treating it like a performance or evaluation.
Plan ahead for great conversation
When considering introverted dating, the average introverted person most likely will list small talk up there with one of the most challenging aspects of dating. Small talk may even be seen as a necessary evil on one's quest to finding love.
The good news is that, with proper preparation, you can absolutely begin to feel comfortable during those seemingly insignificant chit-chats.
Do you worry about running out of conversation topics, or having a connection die before it even reaches deeper territory? If so, keep reading!
One strategy that can make conversations much more interesting is incorporating pictures or videos.
This can work in two ways!
Typically, first dates feature many of the same questions. From inquiries to your hobbies or work to your family and friends, there's a good chance you can anticipate what your date will ask you about. Instead of telling her what your life looks like, choose a few photos or videos you can show her to share a deeper moment!

If you connected with your date via a dating app, there's nothing wrong with scoping out their social media pages. When you're considering what to talk about, don't be afraid to mention a picture you saw or even pull it up and ask about it!
This is a fun, refreshing way to connect more with her life beyond that moment.
Dress for comfort and confidence
You may have heard the popular advice to "dress to impress."
While you definitely want to look your best to boost your confidence, you'll also want to make sure that you feel comfortable.
When you don't feel like yourself, you'll be more focused on how abnormal you feel. A sense of unease on a first date isn't the best way to start a relationship.
Instead of buying new statement pieces for your wardrobe or dressing like someone you think your date would like, choose an outfit that you've had good experiences in that you know makes you feel comfortable and confident!
Choose a place that makes you feel chatty
Putting your best foot forward through introverted dating means playing to your strengths.
Places like busy bars and loud concerts, where you have to compete to be heard, are probably not the most suitable locations for you when you're trying to get to know someone.
Your superpower as an introverted man is your reflective, introspective nature. Here are some locations that reflect that part of you and help you shine!
Art museum

Coffee shop

Wine tasting

Bookstore

Quiet, low-key bar
Whatever you choose, be sure you'll feel comfortable in that atmosphere to increase your chances of being able to fully connect with your date.
Use questions to build a deeper connection
When those early dates start to feel like performative interviews, it doesn't set anyone up for success or enjoyment on the date.
Before asking a question, consider whether or not it can be answered with one word.
If the answer is yes, find a way to rephrase your question so that the woman you're with has a chance to open up more deeply on a topic.
For example, instead of asking, "How many siblings do you have?" you could simply ask, "What are your siblings like?"
If she doesn't have any, she'll say so, and you can ask her what it was like to grow up without any brothers or sisters. If she does have siblings, she'll share how many, their birth order, what it was like growing up, and what they're like now!
Listen intently to what is said, and then find ways to ask follow-up questions or relate to what she shared..
Note: If you find that you're the only one doing the legwork in the conversation (this will be pretty obvious if she is not giving you anything to work with), then she is not the woman for you! You can close your tab in peace and move on.
On that note…
Give yourself a way out if the date is going poorly
If you are not feeling a connection with your date for any reason, the good news is that you can exit gracefully if you have a plan in place!
That way you can feel confident and comfortable in yourself even if the date goes sideways.
Especially on those early dates, a good rule of thumb is  to plan something during the day so that it's normal for you to have plans to get to afterwards or a solidified time when the date needs to end by.
Get help if all of your dates have been unsuccessful
Maybe you've gone on a handful of dates or more, and each one leaves you feeling less confident and more unsure of what you're doing wrong.
If that sounds familiar to you, as an introvert you've likely already done your research via Google, and perhaps you've even incorporated a few dozen tips that you've read on our blog.
Dreading dates, watching your self-esteem diminish, and feeling unsure about how to move forward are all signs that it's time to get outside help and feedback on your dating experiences.
Keep reading to see how we can help you with that :)
Final thoughts on introverted dating and what to do next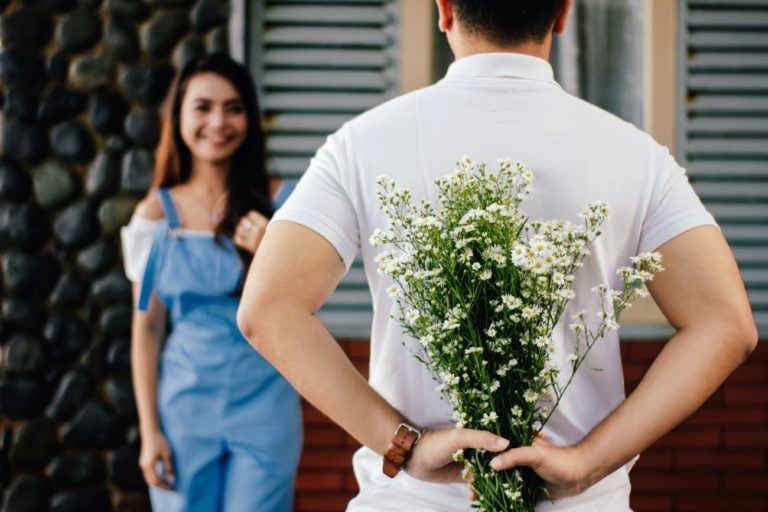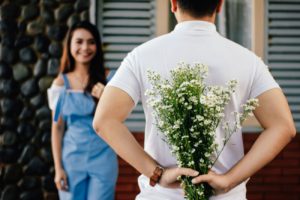 Now that you know how to thrive in today's introverted dating world, you'll be able to honor your boundaries AND find good opportunities to step outside of your comfort zone!
Your Next Steps
To make sure your dating and leadership skills keep improving, remember to download our free ebook, "Why PUA Doesn't Work for Introverts & What Works Instead" to build these dating skills on a foundation of confidence!
Also, be sure to check out our collection of blog posts about conversation and flirting.
For more personalized support, consider our Virtual Virtuoso program.
You'll get 1:1 personalized coaching geared to help you…
Get noticed online with a profile that suits you perfectly,

Send the perfect message each time, and

Go on more dates with quality matches!
To enjoy customized dating support along with a plethora of in-depth video content and advice, learn more and apply to speak with us today.