Intuitive, perceptive, and non-threatening: the triple-threat of starting conversations
When an introverted man wants to get comfortable approaching beautiful women, the best first step he can take is to build the confidence and self-awareness he needs, by first starting conversations in lower-stakes situations..
The great news is that while introverts often believe they have to fake being outgoing, the opposite is true!
If you're an introverted man, the best thing you can do for yourself is embrace what makes you a genuine natural at starting conversations:
Your sensitivity to others' needs and feelings,
The way you can keep a pulse on the atmosphere and pivot as needed, and
Your gentle, unassuming presence that puts others at ease.
One of the best ways to prepare for extraordinary moments of chemistry-dense connection is to practice chatting with random people in your everyday life!
At first thought, that might sound intimidating. You might even be thinking, "I don't want to do that."
If that's you, you're certainly not alone! The idea of starting conversations is often not on the "top ten" list of activities introverts think they'd enjoy, and yet here's the truth: the more conversations you start, the easier it gets… and you DON'T have to pretend to be an extrovert for one moment.
Today, we'll share two good ways to start a conversation with a stranger.
We'll also include lots of examples to help you customize your conversation to match the context!
Why do good conversation starters matter?
Casual chats feel most pleasant and natural when you know where to begin.
Plus, developing the composure to talk in a friendly way with strangers will make it that much easier to strike up a conversation with interesting, kind, beautiful women!
It all starts with building authentic, unshakeable confidence.
Confidence can turn the slightest efforts at small talk into genuine conversations brimming with joy!
To start building your confidence today, download this free 22-page ebook and complete the helpful exercise on page 8.
Download it here, and dive in after you finish reading this post.

Now, let's explore two good ways to start a conversation with a stranger!
1. Comment on an experience you're sharing.
Consider this quote from Gus Cooney, a Harvard Ph.D. student and the lead author on a study about shared experiences:
"Conversations thrive on ordinary topics."
Not sure what to say? Take some inspiration from your surroundings! Are you…
Waiting in a long line at the electronics store?
Listening to a kid beg their mom for candy?
Shopping in the same section as someone?
Enjoying sunny skies at a local park?
Two helpful nuggets are hidden inside your location: a list of topics and an opening comment!
For example. Imagine you're at a dog park on a gorgeous afternoon, and your puppy is taking an interest in her puppy. "My dog seems to really like yours."
If there is no response or an unenthusiastic one, don't give it a thought! You were warm, friendly, and open, and you can carry that right into your next conversation with someone new.
Or if the person you spoke to seems receptive to you, ask a brief, not-too-personal question like, "What's her name?" referring to her puppy that yours likes.
You never know where the conversation might lead! Whether you find out that she just got her puppy last month or this is one of eight dogs in her home, be open and curious as the chat unfolds.
Tip: It's okay if the conversation fades naturally. If this happens, you can simply keep to yourself. When you're on your way out, it's polite to say pleasantly, "It was nice chatting with you! Enjoy the rest of your day!" unless of course you really hit it off and you'd like to exchange contact information, which is for another blog post!
2. Mention something you notice about them.
You can learn a lot about someone just by observing them in a laid-back way! People express themselves through…
Clothing and hairstyles,
Vocabulary and accents, and
Body language and behavior.
This is like a kaleidoscope of beautiful opportunities for you to connect!
To increase your chances of being warmly received, before saying anything, check on these context clues:
Do they appear to be in a hurry?
Do they seem to be in an irritable or unpleasant mood?
Does it seem like they want to be left alone?
If you answer "yes" to any of these questions, it's best to find someone else to chat with.
The great news is that for every stranger you run into who doesn't seem to be open to conversation, you'll find several more people who are laid-back, approachable, and friendly! Those are definitely the types of people you want to practice connecting with.
For example, you could mention that you like the band on someone's T-shirt, or if someone's hair is done very nicely, you could ask if they have a special occasion that day.
Tip: Focus on endearing quirks or positive aspects instead of making comments that could be interpreted as critical. For example, you might want to refrain from commenting on the fact someone looks tired or hurried just in case they might be self-conscious about that.
Final thoughts on good ways to start a conversation
Now that you know how to get a conversation started with just about anybody, you'll be able to adapt your approach to fit the context!
Let's review what we went over today:
Two good ways to start a conversation,
On-ramps and signs to consider before diving in, and
How to be pleasant without prying.
If you're looking to meet friends online, check out Friended!
Your Next Steps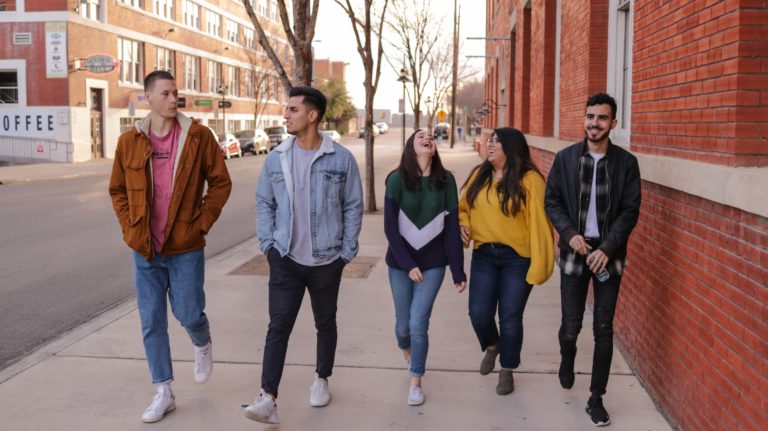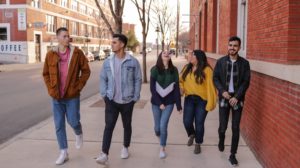 Now it's time to take action to make sure your communication, dating, and leadership skills keep improving so you can enjoy more meaningful connections with others. Here's what to do next!
For more on conversation, read this article: 10 Good Conversation Starters For Introverted Men.
Download our free ebook, "

Why PUA Doesn't Work for Introverts & What Works Instead

" to build these skills on a foundation of confidence!
For personalized support on bringing out your unique best and starting conversations naturally as a way of life, consider our Become A Benevolent Badass program.
Through this in-depth, 1:1 coaching program, you'll…
Find your inner true north and deepest sense of self,
Become your relaxed and playful best around others, and
Rise up as an intentional social leader.
The true confidence that comes from becoming the best version of yourself will revolutionize the way you connect with others. Become a Benevolent Badass today!